Raleigh Infant Academy puts the safeguarding of our pupils at the forefront of our school.
It is the responsibility of every member of staff, volunteer and visitor to our school to ensure that they are aware of safeguarding and the requirements to follow procedures at all times. Everyone must work in a way that will safeguard and promote the welfare of all the pupils at this school. Everyone must take on the responsibility for providing a safe environment in which children can learn.
If you are worried about the safety or wellbeing of a child, please contact:
Mrs Purvis – Designated Safeguarding Lead
Mr Harris – Deputy Designated Safeguarding Lead
Alternate Designated Safeguarding Leads are: Mrs Ewens and Mrs Hall. All of our Safeguarding Leads can be reached on 01842 762810.
At Raleigh Infant Academy we fully recognise our responsibilities for child protection. We aim to ensure that children are effectively safeguarded against the potential risk of harm and that the safety and wellbeing of all children is of the highest priority in all aspects of the Academy's work. In addition, we aim to maintain an ethos whereby staff, pupils, parents and governors feel able to articulate concerns comfortably, safe in the knowledge that effective action will be taken as appropriate.
Our Safeguarding Policy applies to all adults, including volunteers, working in or on behalf of the Academy and it is expected that everyone working in or for the Academy shares the responsibility to keep children safe from harm and abuse and reports any concerns to the designated safeguarding lead for the Academy or the alternate.
We welcome volunteers, including parents, into our Academy, but at all times ensure that such volunteers are suitable to work with children. Those who volunteer time with the children on a regular basis are required to undergo checks before they do so.
The value of direct teaching on the subjects of respect, healthy relationships and keeping safe is recognised as a key feature of the School's proactive and preventative approach to safeguarding. Personal, Social, Health and Economic Education (PSHE) teaching includes units on themes and topics such as Drugs, Alcohol and Tobacco Education, Stranger Danger and e-safety issues. Children are encouraged to explore and discuss these issues in a safe environment.
If school is closed and you have an urgent concern about a child's welfare and believe them to be at risk of significant harm, you can call the Police on 999 or make contact with Norfolk County Council's Children's Services on 0344 800 8020. See more information here: https://www.norfolk.gov.uk/children-and-families/keeping-children-safe
Working Together to Safeguard Children is a government document that we use to inform our practices. It can be found here: https://www.gov.uk/government/publications/working-together-to-safeguard-children–2
Our Safeguarding Policy and Safeguarding Procedures are available on our policies page.
We are part of Operation Encompass; please click here to find out more.
We have also collected online safety information here.
Early Help
Early Help is a service available to all families in Norfolk. They have services to access support, information and guidance on a range of areas.
If you are worried about your child or family and think you might need some extra help you should first discuss your concerns with your family's health visitor, a children's centre you visit, or your child's preschool or school. If you are unable to get the help you need you can talk to the early help team based in your local area.
Breckland: 01362 654515
The Early help website can be found here for further information www.norfolk.gov.uk/children-and-families/early-help
Children's Advice and Duty Service (CADS)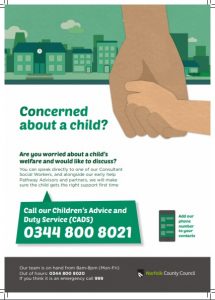 Children's Advice and Duty Service
If you are a professional, i.e. working with a child or young person in a formal or voluntary setting and not a family member or member of the public, you can contact the Children's Advice and Duty Service on their direct line: 0344 800 8021.
If you are a member of the public you can do this through Norfolk County Council's Customer Services on 0344 800 8020.
For any call raising concerns about a child, the Children's Advice and Duty Service will ask for:
all of the details known to you/your agency about the child;
their family composition including siblings, and where possible extended family members and anyone important in the child's life;
the nature of the concern and how immediate it is;
Any and what kind of work/support you have provided to the child or family to date.
They will also need to know where the child is now and whether you have informed parents/carers of your concern.